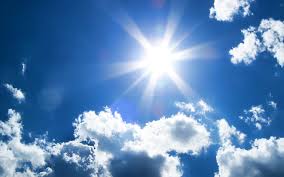 This great weather encourages us to get out and about but remember to take care of older people in the sun.  Here are a few tips for taking care in the hot weather.
Stay out of the sun, if possible. If you have to go out stay in the shade or wait until the evening when it is cooler.
Stay hydrated. Drink plenty of cool water, clear juices, and other liquids that don't contain alcohol or caffeine. Cool or tepid drinks are better than ice cold ones. Remember alcohol and caffeine can dehydrate you (dry you out) so avoid them.
Whenever you can, try wearing loose, light-coloured clothes (dark-coloured clothes absorb heat). Natural fabric like cotton is best.
Use broad spectrum sunscreen with sun protection factor (SPF) of 15 or higher. Remember to protect your face and ears.
To cool down, try taking a tepid (not too cold or too hot) showers, baths, or sponge baths. If you don't have time for that then just use a wet washcloths or towels with cool water and put them on your wrists, ankles, armpits, and neck.
Take care of yourselves.